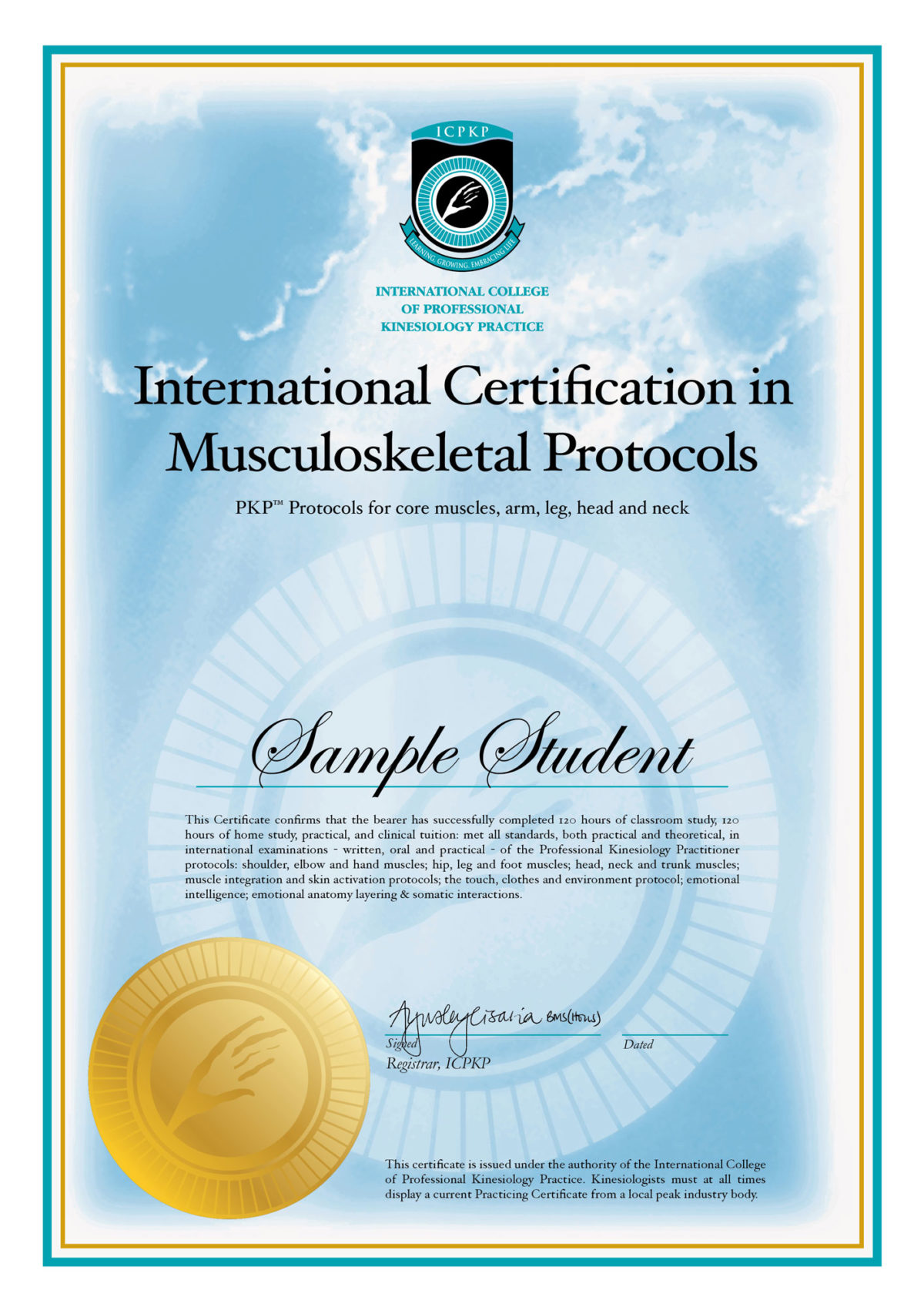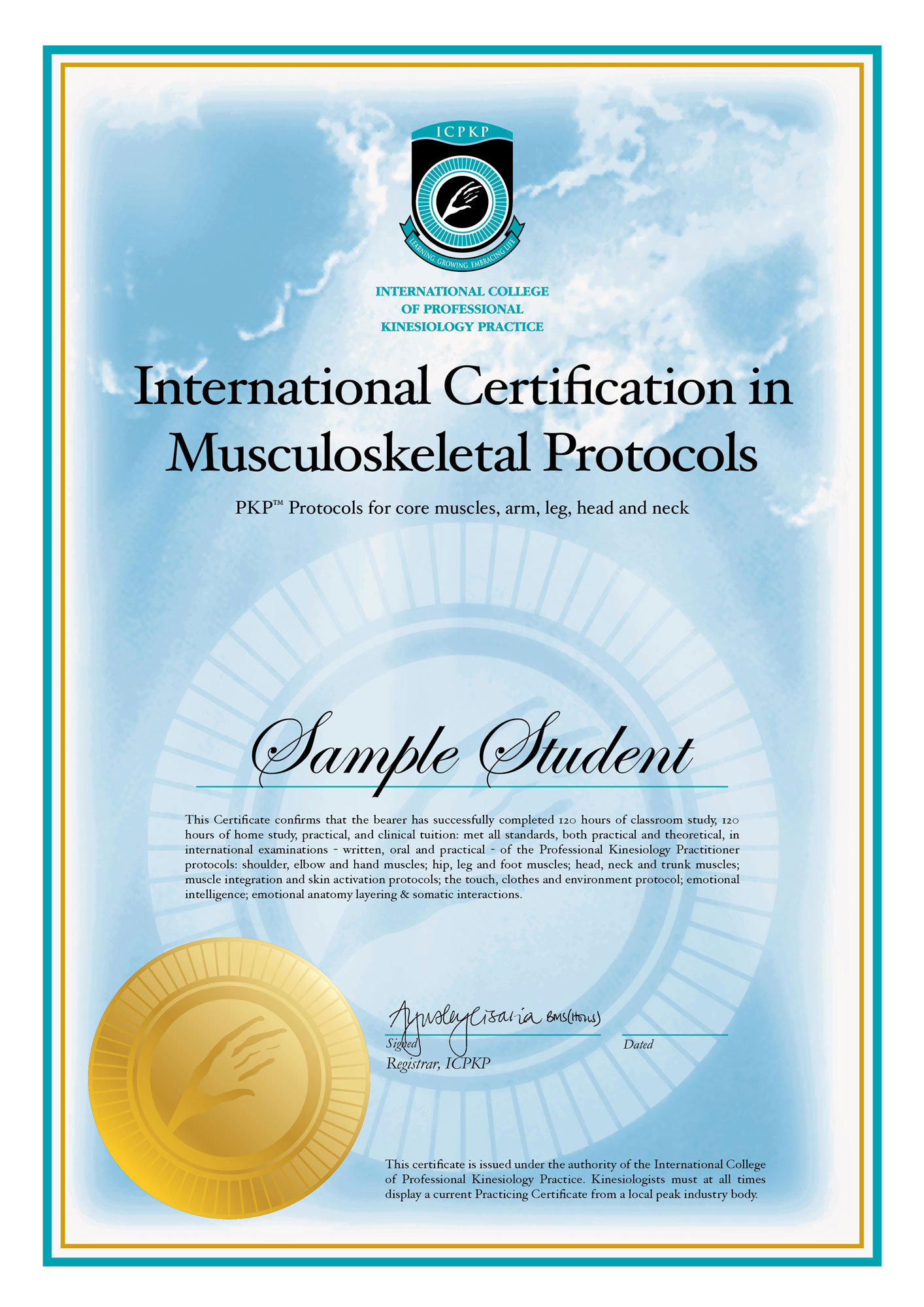 ICPKP® Musculoskeletal Protocol Certification Program
Prerequisite: ICPKP® Stress and Pain Management Certification Program
These regional muscle protocols enable a professional, indepth assessment and care for local musculo-skeletal problems.
For an example of the power of these protocols, Dr Dewe once did a "quick-fix" for a DJ with a chronic frozen shoulder at a New Years Eve party. The guy was incredibly grateful for those 5 – 6 mins that gave him total relief for 10 hours. A full 22 muscle protocol unlocked the suppressed childhood trauma that was behind the chronic problem. As a result, he referred dozens of new clients to Dr Dewe's clinical practice.
There are six workshops in this Certification. Start with MST 201 and complete the others in any order as they are available to you. In MST you will learn Dr. Dewe's professional, regional anatomy approach. eg. A client with a painful shoulder with restricted movement can easily be confused when (using the traditional 5-element kinesiology system) you begin testing his legs as well as his arms.
Dr. Dewe taught anatomy at the Auckland Medical School and says, "regional muscle problems need a functional anatomy approach". This certification contains his protocols from working with fishermen, manual workers, sports people and those with repetitive movement jobs.
You will learn to test 22 muscles around the shoulder joint. This thoroughness extends to every joint including the TMJ. Clients will be astonished by your meticulous approach.
You will start with 14 new tools related to skin and muscles and, before you finish, you will refine your whole attitude to the kinds and appropriateness of touch, of being out-of touch, losing touch and how and what clothes we have touch us reflect upon and affect us. You will conclude with anatomy from the emotional perspective and learn how deeply embedded or submerged emotions can cripple us with pain or restricted movement.
Finally, you will learn how an understanding of emotional intelligence will help a client with their physical complaint.
This course includes:
| Code | Name | Type |
| --- | --- | --- |
| A&P1 | Anatomy & Physiology 1 | HS |
| BKP106-en | Professional Skills, Balancing Protocol with ICPKP Database | LDP |
| BKP109-en | Advanced muscle techniques, Reactivity and Posture | LDP |
| MST201-en | Muscle Integration & Skin Activation Protocols | LDP |
| MST202-en | Shoulder, Elbow, Hand Muscle Protocols | LDP |
| MST203-en | Hip, Leg, Foot Muscle Protocols | LDP |
| MST301-en | Head, Neck, Torso Muscles | LDP |
| MST302-en | Touch, Clothes and Environment Protocols | LDP |
| MST303-en | Emotional Anatomy and Emotional Intelligence | LDP |
| MSTtest | MST End of Series test | LDP |
| RBT201-en | Clinical Body Contact, Palpation and Draping | LDP |
LDP
= Lecture, Demonstration, Practice.
HS
= Home Study
OC
= Off campus (taken with an external provider)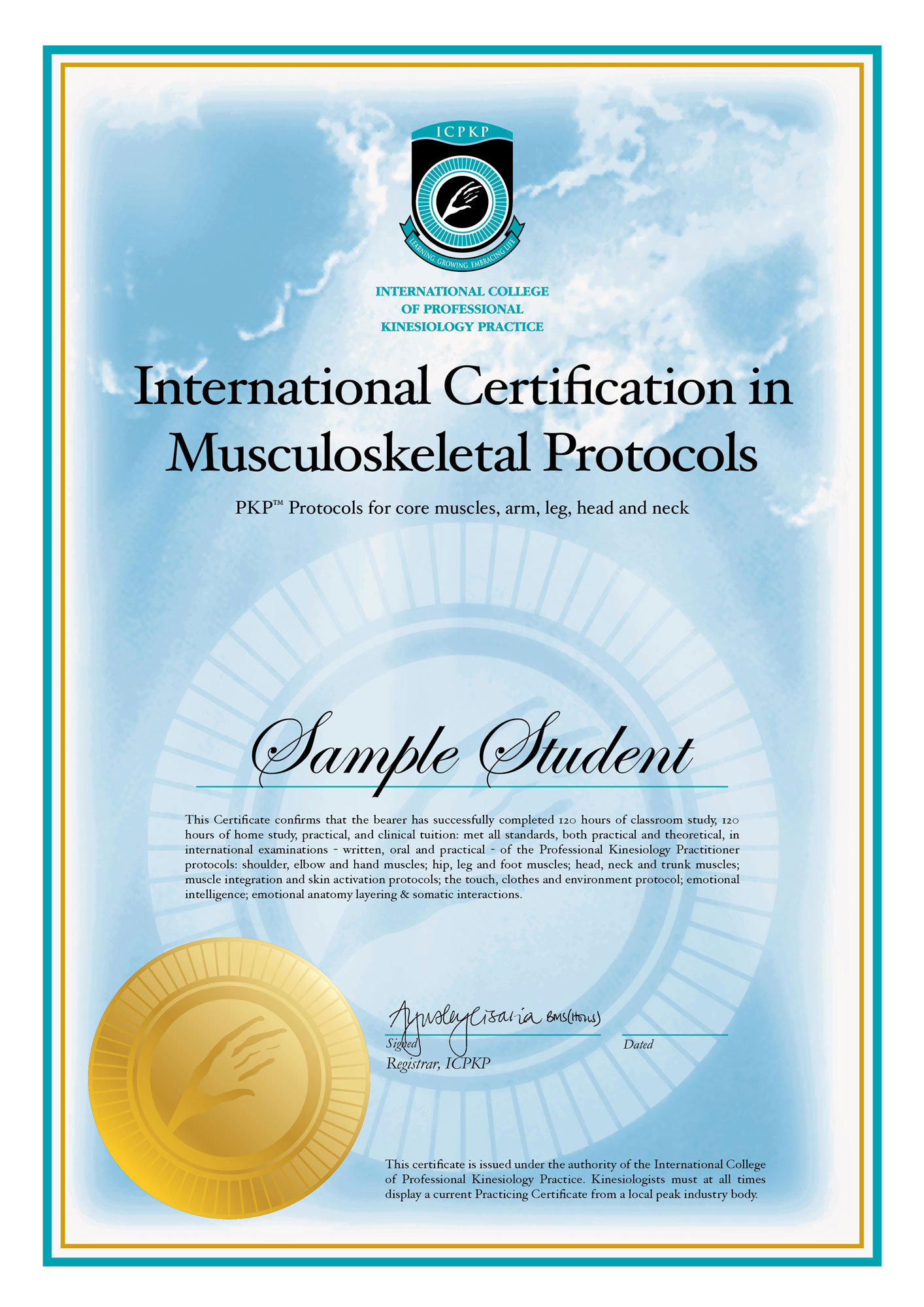 All courses and qualifications offered by ICPKP are approved by the International Institute for Complementary Therapies.
Qualifications that contain this course: