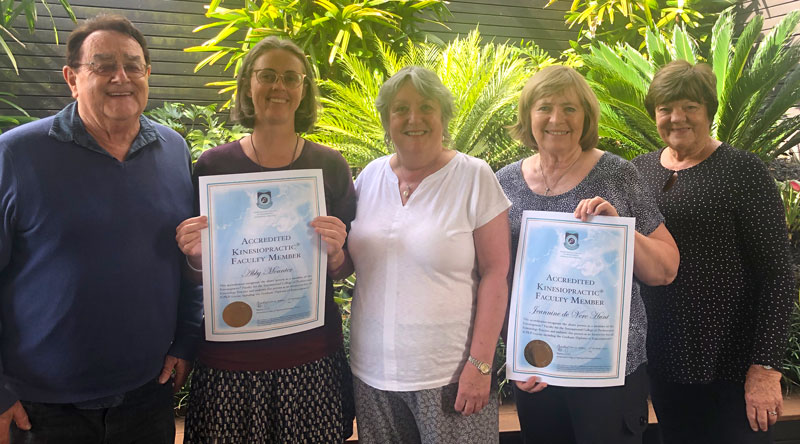 FAC 3 attendees celebrate their graduation. L-R: Dr Bruce Dewe (ICPKP co-founder), Abby Mounter, Denise Gurney (FAC trainer), Jeannine de Vere Hunt, Joan Dewe (ICPKP co-founder)
Months of preparation and ten days of hard work have seen the completion of the last FAC 3 Faculty training course which was held in Auckland, New Zealand from 31 Oct – 9 Nov 2022.

Two well prepared senior NZ practitioners, Jeannine de Vere Hunt from Whangerai and Abby Mounter from Te Arai, travelled to Auckland for the course. They put all their energies into making the transition from FAC 2 to FAC 3 Kinesiopractic®️trainers. If you think the ICPKP courses are amazing, consider becoming an ICPKP Faculty Member because you will grow exponentially as you learn to share this precious gift.

Senior Faculty Trainer, Denise Gurney traveled from the UK for this special class and she was supported throughout by Dr and Mrs Dewe (and David Silvester) helping quietly in the background. There were delightful occasions when Dr Dewe visited class to share some of his pearls of wisdom with us.

There was growth; there were tears, frowns, stories, insights and plenty of smiles and laughter as the students grappled with the 20 units they had to cover – but it was worth it! A job well done, thank you one and all.
ICPKP Faculty training will still continue, but it will now follow the new Diploma 1-4 structure, so you haven't missed out. Watch the ICPKP website for training dates.