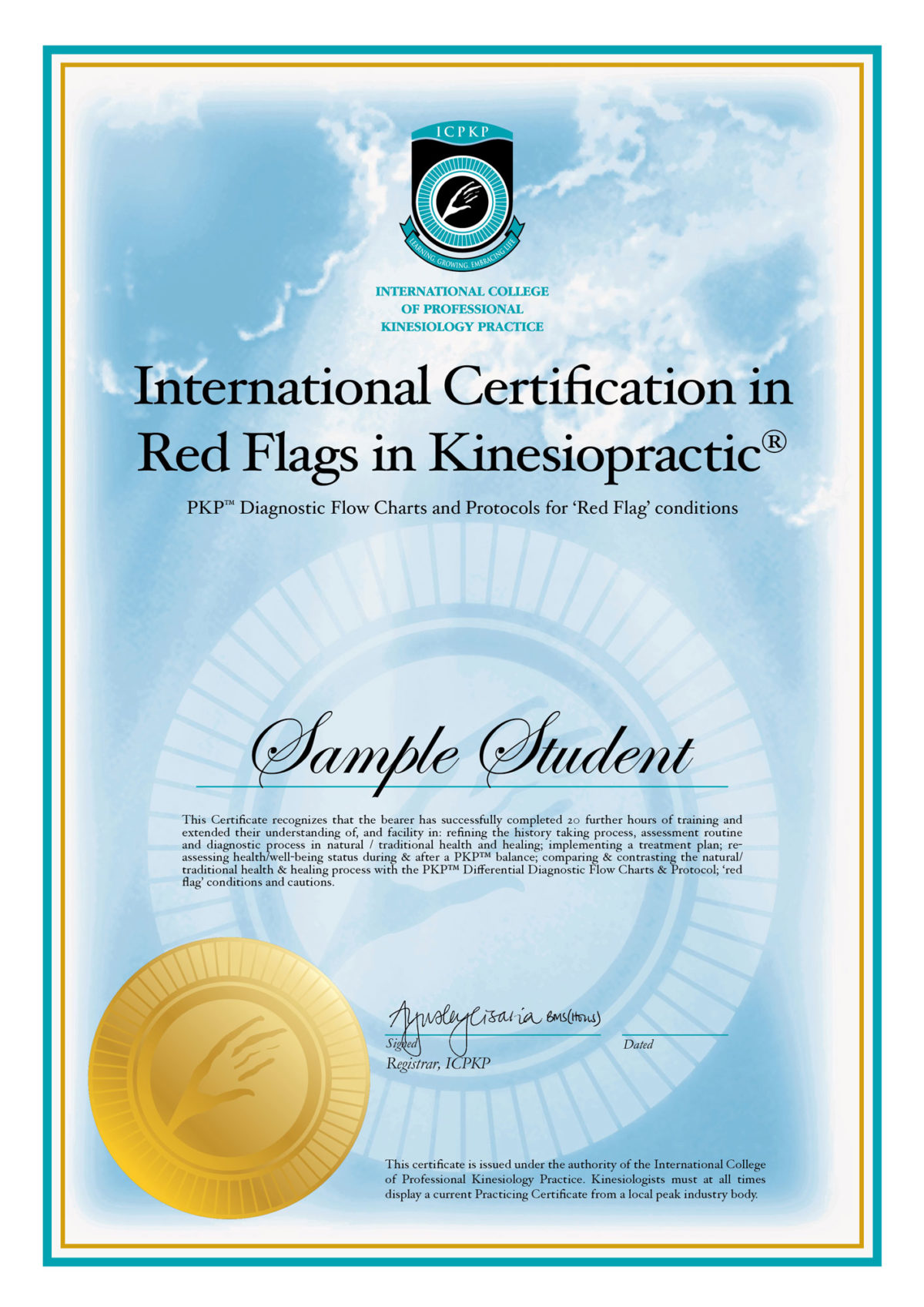 ICPKP® Red Flags in Kinesiopractic® Certification Program
Prerequisite: PKP™ Practitioner Certification – Kinesiopractic® level 1
Learn to recognise the red flags that mean it's time to refer your client to a medical professional.
This is a must-have certification program, which is why we include it in all PKP™ Diplomas.
Note: this course is taught only by specialist ICPKP Red Flags Faculty members. Students who have not yet completed the prerequisite PKP™ Practitioner Certification may be permitted to take the OCT 302 Red Flags unit early if they have completed the Certificate in High Level Wellness & Vitality, at the discretion of the Red Flags Faculty member.
What you will learn and why:
Seven reasons why diagnosis is important – eg. is this a medical emergency?
How and why to use standard systematic questions in history taking.
What to do when muscle weakness is not an unlocking muscle.
Recognising a mental disorder, and what to do next.
How to use Flow Charts – you may save a life.
Comments from previous students on our Red Flags workshop:
"My father is a hospital cardiologist. When he saw my Class Notes for 'Red Flags in Kinesiology' he told me that at last he was able to say he was happy that I was studying kinesiology and was no longer worried about my career choice".
– Anon, Australia
"Red Flags is a truly inspirational workshop and is a must for any Kinesiologist! The session was informative, clear and lots of FUN!! This course is really the key to raising the level professionalism of our industry. Thank you Dr Dewe!"
– SG, Australia
"Dr Dewe, I want to thank you too for the informative and insightful red flags workshop.  I think it's a 'must do' for every Kinesiologist who is serious about being professional.  The flowcharts in the workbook are really easy to follow and this is now one of my most valuable resources I use when taking case histories.  Thank you also for sharing your wonderful stories because they demonstrated real life situations and highlighted the important responsibilities we face as Kinesiologists."
– Belinda, Australia
This course includes:
| Code | Name | Type |
| --- | --- | --- |
| BKP106-en | Professional Skills, Balancing Protocol with ICPKP Database | LDP |
| OCT302-en | Red Flags in Clinical Practice | LDP |
LDP
= Lecture, Demonstration, Practice.
HS
= Home Study
OC
= Off campus (taken with an external provider)