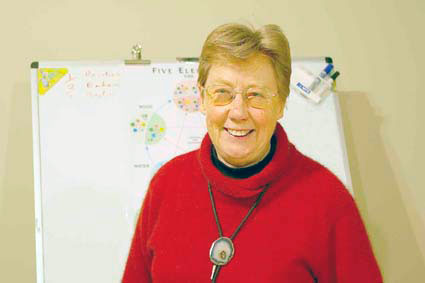 Senior ICPKP Faculty Member, Val McArthur, Passes to New Heights
Much loved Senior ICPKP Faculty Member, Valerie (Val) McArthur, passed away peacefully on 13 August 2021 after a brave battle.
When Val came into the Kinesiology family she was already a Medical Herbalist Dip. Med Herbalism and had been in clinical practice and tutoring in both Herbal Medicine and Massage since 1997. Like many of us Val took the Touch for Health pathway into Kinesiology and quickly added Brain Gym (Educational Kinesiology). By 1998 she was studying the PKP programmes and wanting to teach more of the stuff she loved.
After FAC 1 Val travelled the world to take FAC 2 in Norway and FAC 3 in Germany. Val was the Principal of the Herbal Touch Centre with not just one but two campuses, Hamilton and Nelson, where she taught the NZQA Diploma in Kinesiology along with herbal studies and massage.
Val was an active member of The New Zealand Association of Medical Herbalists (NZAMH), the Kinesiology Practitioners Accreditation (KPAB) Board, the Zealand Charter of Health Practitioners Incorporated which became The Natural Health Practitioners of New Zealand Incorporated. She worked with the Natural Health Council of NZ on behalf of KPAB and took her turn at Management positions. I well remember her email when a website issue was solved; "Yee ha, it's working".
Val McArthur and Margaret MacArthur between them produced a brilliant one day introduction to massage course for Kinesiologists. It came together over a 3-day long weekend at an Eco Lodge on Waiheke Island where Bruce and Joan between them could almost keep up with the laughter and fun as they recorded two highly experienced women condensing the best of a year's training into a day.
Val was an active person and, while we walked around Madills Farm park in our home suburb of Kohimarama, she could be off with a hiking club exploring a newly opened track in the South Island. Mention a favourite place on Great Barrier Island or Waiheke Island that you had showed an overseas person and she would ask how they liked that funny gate or the view from the top corner. She wasn't 'one upping'. Val was genuinely interested and she had been there.
One never knew what her next adventure would be. Take 2012 for example. In June we let her know we were off to Europe. She replied, "I have just had 5 weeks away in Brazil and Peru. Lake Titicaca in the Andes Mountains was the highlight. It is 12,500 ft, nearly 4000m above sea level. You can go there after Machu Picchu. Then in mid December she wrote, "Now back home after an amazing trip. Bangladesh is definitely third world. It's about the same size as our North Island but with 160 million people." She didn't mention that she was there with Habitat for Humanity building houses. She did say, "Got to cross the Ganges river and paddle in the Bay of Bengal. Did not find any tigers thank goodness, but did see pug marks in the mud. We were accompanied by two local men with guns." When questioned she added, "The house building was fun. Really good now at building walls with bricks and mortar." Certainly a trip to remember.
Val has had extensive training and vast life experience. As a school principal and teacher, she provided a safe and supportive base to assist students through their learning and life challenges. She made learning fun, relevant and memorable.
Some years ago Val sent us this:
A Franciscan Benediction
May God bless you with discomfort at easy answers, half truths, and superficial relationships,
so that you may live deep within your heart.
And may God bless you with enough foolishness to believe that you can make a difference in this world,
so that you can do what others claim cannot be done.
Anonymous

Val, you have set us all a fine example of a life well lived, with love and laughter, the hope of a better tomorrow, kindness, humility and you were very patient waiting for us to catch up or catch on. You have taken the next journey. The gates were open and there were loving arms outstretched for you. Embrace the next adventure.