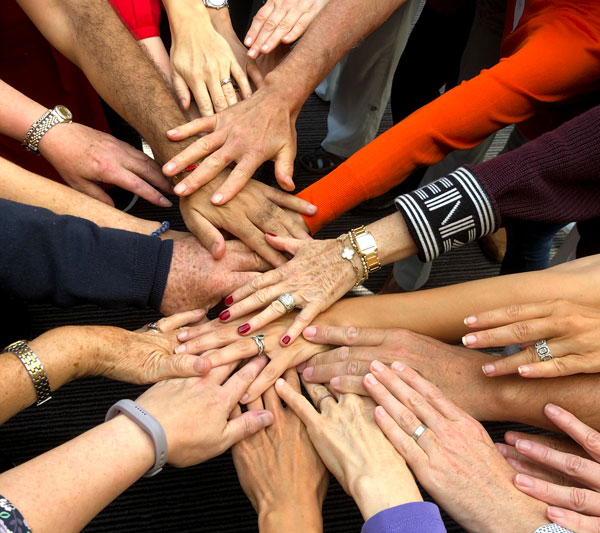 International delegates express their unity at the PKP UK Conference 2019
An international group of delegates enjoyed four days of events at Hollin Hall hotel in the Cheshire countryside. Firstly Dr Dewe taught Red Flags for Kinesiologists and gave everyone clear guidelines on how to recognise those symptoms which need referrals to a medical practitioner. Students made these comments about the course:
"The Red Flags is an amazing course which all health practitioners would benefit from attending. I feel more confident that I can identify health issues that require medical attention"
– MH UK
"The workshop was extremely informative. Having the privilege of being taught by a very experienced medical doctor about red flags to look out for in clients presenting with specific symptoms is a tremendous advantage and makes us highly trained and very safe and effective practitioners. Even though I have been practising for nearly 40 years, this information is so important"
– NG Eire

The ICPKP UK conference also took place, with the keynote speaker Margie Donde from South Africa explaining much of the background to Kinesiology in science and new research, and then there were demonstrations and teachings for everyone to take part in. Experienced practitioners and new students worked together and it was a glorious event with lots of learning, laughter and fun. Everyone painted a new vision to take home from the conference.
"The annual ICPKP conference really is the highlight of my year; I love feeling part of a worldwide community of like-hearted people. I'm grateful and blessed. Bring on next one!"
– MH
"It was a truly blessed time, doing balances, learning new information and spending time with our mentors Dr Bruce and Joan Dewe. However being reminded that we are part of a larger Kinesiology family, world wide – priceless!"
– MD S.Africa

The weekend rounded off with a Faculty update and a student practice day – and students had fun learning things from Dr Dewe while the rest of the faculty did an update in the other room. The food in the hotel was great and it was a weekend of warmth and making new friendships.
PKP UK Conference 2019 Energises Faculty and Practitioners "One of my balances was life changing. I have been telling myself that I have to work hard to be healthy, and I gained a real awareness of the impact we have on our children"
– CR UK