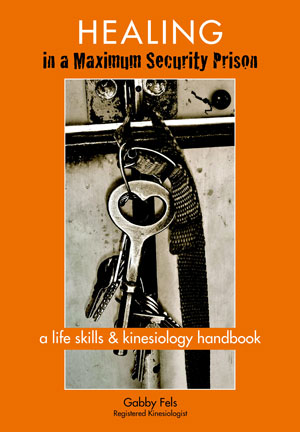 Eight years ago South African ICPKP Faculty Member, Gabby Fels, published her ground-breaking book on the use of Kinesiology in Leeuwkop Maximum Security Prisonfor men. When the book was written over 1000 men had taken the course and received certificates. "The atmosphere in the prison was transformed and many of the inmates found Inner peace, hope and self confidence for their futures without reverting to crime."
ICPKP Faculty Member, Gabby Fels.
Now, Gabby has a new website healinginprison.co.zawhere you will find the eBook version of her book, Healing In a Maximum Security Prison, together with a Study Guide. Gabby says, "It is a useful tool for everyone who is in trouble and needs support, or a guide to bring them back into balance."
Dr. Dewe says, "The eBook is a must for all PKP™ students & practitioners and kinesiologists of every description. There are 16 'Life Skills' explained more clearly than you will find elsewhere. You will use these with clients (and at home). There is the story of a Pear Tree which teaches one of Joan Dewe's favourite sayings."
The kinesiology material in the eBook draws from the ICPKP™ and K-Power® workshops and is fully acknowledged. Students who take FKP 1 – the Certificate in High Level Wellness and Vitality – will get enormous value from the ten Specific Balances (eg for Self-Esteem, Anger Management, Depression) and so will your clients. Dr Dewe says, "I am tempted to make this a must-do for all PKP Students".
On Gabby's website you will see a video showing a 2008 graduate student, Solly. Since his discharge, he has become an incredible inspiration within his community and regularly holds Entrepreneurial Workshops to assist the "man in the street" who has no job, and no hope.
Dr Dewe says, "Perhaps the eBook should be called Escape Your Inner Maximum Security Prison because so many people today are 'Lost Souls' stressed to the maximum without a sense of well being or contentment."
Do yourself an inexpensive favour, go to Gabby's website now and download the eBook (90 ZAR = $US7.60) and Study Guide (30 ZAR = $US 2.50).